Brantley Ellison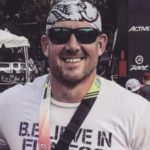 In December 2012, I was 267 lbs and suffering from major lower back pain. I hid the severity of the pain from my family for years. Be tough right? Or what most would call stubborn. After several doctor appointments, talks of surgery, MRI's and pain medication, I decided to take the advice of mother Linda and make one more doctor appointment with Nancy Buckheister in Ocean Springs, MS. Nancy's solution was simple – lose weight and strengthen your core to relieve some of the pain. She explained that I wasn't a spring chicken, I was sadly overweight and my muscles were deteriorating. Me? No way! Little did I know that statement would change my life!
In January 2013, I finally decided that it was time for me to start living a healthier lifestyle for myself and my family. After scrolling through Facebook, I came across a weight loss challenge for Cycology Fitness in Biloxi, MS. I told my wife Kelly that this was my opportunity to give it 110% and she agreed. I joined the challenge, lost 42 lbs in 12 weeks and took 3rd out of 100 people. I wanted 1st place so bad, but it only added to my motivation to make a 1 year transformation. Throughout the year, I became more interested in fitness, learning to understand other's struggles and helping others that were just like me push past them.
In April 2013, I became a fitness instructor at Cycology Fitness. I found it very rewarding working with people and watching them reach their goals. I knew this was something I was meant to be doing so I started laying the foundation for B.E.Fit. Over the year, I continued learning, soaking up information and studying what motivation techniques work.
In March 2014, I became PT Certified and B.E.Fit (Brantley Ellison Fitness) was born.
Matt Boney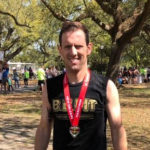 My name is Matt Boney and I have been with BE Fit for almost three years now. When I first started, I weighed 240 and had a goal to lose 20 pounds. Here I am 85 pounds later and in the best shape of my life thanks to Brantley and his team. Since making my transformation, I have joined his team of instructors at the best gym on the Coast. When I am not at the gym, I work at Community Bank as an Assistant Vice President. I get to come home to a wife (who also does BE Fit), and my two boys. If I had any advice for someone thinking about making the leap, it would be to make time for yourself. It's easy to say you're too busy, but the majority of us have normal jobs and a family outside of the gym and we still get it done. It's an investment in yourself and you won't regret it!
Jeannine Blum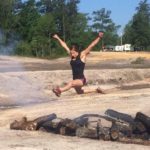 My name is Jeannine and my motto is "There's always room for improvement ". I have been involved with B.E.Fit since 2015. I joined for motivation and strength and that's exactly what I got!
I started assisting in dance classes at age 15 I've now been a dance instructor for 22 years. Dance has tremendously helped me in my fitness journey! I became a fitness instructor at 19. I'm certified in several different kinds of aerobics: barre, cycle, group fitness classes and personal training. I'm also one of the bootcamp instructors and I teach Barre, Pilates, and STRIKE at our gym!
Favorite Quote: "Stay away from negative people. They have a problem for every solution." -Albert Einstein
Josh Ervin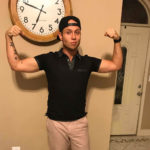 I started my personal fitness journey in January 2016. I looked in the mirror one day and didn't recognize the person that was there. That January I weighed in at 317 pounds. Through diet, exercise and the guidance of Brantley Ellison I have lost over 130 pounds. I'm in the best shape of my life and enjoy helping others achieve the same happiness that I have found through fitness.
Rebecca Kelly AKA "Becks"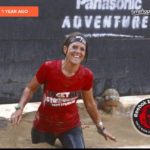 My name is Rebecca Kelly, AKA Becks and I am a group cycle instructor! My real job is a nurse manager at Biloxi Internal Medicine Clinic, but my fun job is teaching a cycle class!
I am currently certified with Fitour and will soon be Schwinn certified. There's always room for knowledge.
I did not start my fitness journey until I was 40. I became a group fitness instructor for a few years and then accidently fell into teaching group cycle! I had taken many cycle classes over the years but I never saw myself teaching it but I had a friend that owned a gym-needed a sub for the last half of her class-I taught it and here I am now, 6 years later!
I am known as "The Bossy One!" I teach a pretty intense class- so if you want hard, come see me. If you want a Sunday bike ride in the park, come back another day!
Jason McHugh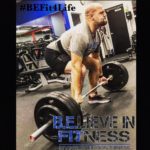 I have been and athlete all my life. of all the sports I played, football was my favorite. I started with in 3rd grade and finished with as a sophomore in college. However, as an offensive lineman, I have always been on the heavier side. When I stopped playing football it was not long before I realized I had to change my eating habits. I attempted to adjust what and how I ate, but after eating pretty much anything I wanted, whenever I wanted for my entire life, it was not easy. Overtime bad habits resurfaced. One I looked down at the scale and read 360!!!! It was a wake up call. I did not have the energy to play with my kids or really enjoy life. I visited my doctor looking for help. She got me on the right path with my diet. I began exercising, although having worked out most of my life I was still at a loss for HOW to exercise and WHAT exactly to do. I heard about BE Fit and decided to give it a try (June of 2017). My first goal was to complete a 5k. My BE Fit family supported, encouraged, and pushed me way past that goal. After my first 8 week bootcamp I was hooked and signed up for BE FIT 4 Life. My goals grew beyond anything I ever imaged possible. Since that first bootcamp I have run more races than I can count, including 2 half marathons! I am currently training for over 55 miles worth of races in the last 3 months of this year, including a FULL MARATHON. That is what happens at BE Fit, goals are set and far surpassed! When Brantley tapped me to paying it forward by assisting train the 5 am bootcamp I was ecstatic. I am very excited for what Krissi and I have planned for the earlier risers. I look forward to being a part of transformations like mine. Currently weighing in below 280 and still dropping.
Erin Rosetti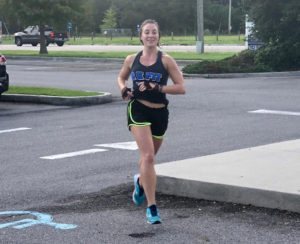 I had been searching for a fitness family for years when I started hearing more and more about B.E.Fit boot camps and the program's loyal followers. I was in a low place in early 2018, struggling to find the motivation to get active and gain my confidence back. I knew I had it in me to feel great again and conquer whatever fitness challenge I might be faced with, but I desperately needed guidance and some accountability.I stopped by Brantley Ellison Fitness to see if it was for me the first week the gym opened. I had heard endless success stories and I wanted to see why everyone was drinking the blue kool-aid. Now I know why, and now I'm a B.E.Fitter for life. I've lost more than 25 pounds, 8 inches and 5% body fat since March 2018. Another victory includes cutting my mile time from close to 10 minutes to less than 7:30. The classes, the boot camps, the support and the encouragement all work for your benefit.
I am so excited to be able to offer my knowledge of personal training with clients to ensure they meet their specific goals and desires for physical fitness. Join the B.E.Fit family today!
Angel Schmermund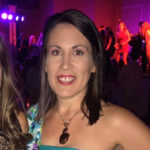 Hey Guys I'm Angel!
I am certified in Indoor Group Cycle as well as Group Exercise. I absolutely LOVE teaching!
I, like many of you, struggle with my weight, it is and most likely will always be an ongoing battle for me. My road to becoming an Instructor has been paved by adversity and frankly I wouldn't have it any other way. Suffering a near fatal car accident, resulting in a long list of injuries and surgeries including being unable to walk and restricted from exercise, the pounds quickly added up. Trust me when I tell you, I understand the fear of even joining a gym. I was embarrassed and uncomfortable of my weight. I reached a point of being "sick and tired of being sick and tired" so I put my fears aside, started working out on my own at home eventually joined a gym and over time dropped roughly 100 lbs.
In 2014 I was diagnosed with breast cancer and endured multiple surgeries and again medically restricted from working out for most of that year. Having endured such a difficult trial with my health gave me a different perspective on life and a new appreciation for the opportunity of a healthy functioning body, this time I didn't let the little bit of weight gain bother me or hold me back I was just so happy to be ABLE to get out of bed without help, to drive myself, to get groceries for my daughter by myself without physical help from someone else. So muffin top? So what! In 2015 I joined a gym on the opposite side of town but the road construction made the drive impossible. I started looking for somewhere new. I google searched gyms near my house, scheduled a tour and my took my "first free class" which turned into the LOVE OF MY FREAKING LIFE (indoor cycle)
I could not believe I had never even heard of spin before that day. Such a Jerry Maguire moment for me lol literally "you had me at hello" That gym became everything to me. The instructors and members became friends who feel more like family, creating a network of support, encouragement, motivation and consistency making it easy to succeed in reaching my goals.
In June of 2016 completely unexpected and out of the blue my breast reconstruction failed. Again more surgical procedures and wound care visits 2-3 times a week left me devastated and depressed, after several months of being overwhelmed and depressed I reached out to my gym family (this time against medical advice and without being medically released) to tell them I would be at the gym the next day. I still had my surgical drain tubes in and changed my wound dressing multiple times a day. My desire to fight back against the depression that was eating at my heart and mind was stronger than my physical condition or ability at that point. I couldn't do what I once could, by far but I did what I was capable of, listened to my body, and set myself a goal of going to the gym EVERY SINGLE DAY and just doing a little bit every day. Finally my body started to heal again, my goal of showing up every day turned into sharpening my mind forcing that depression away, becoming physically stronger and healthier and getting released from wound care as well as my surgeon. I was asked by our gym group fitness Coordinator if I would consider getting certified in indoor group cycle so I could be hired as an instructor and I was ELATED! I dove in feet first without ever doubting myself for a second. I was lucky to have an amazing mentor and team mate, Becks guide me through the learning process as a green "newbie" instructor. My goals as an instructor come from my heart, I am here to connect with you as i feel that having a strong relationship will help us BOTH to stay consistent. I want to encourage you because I KNOW what it feels like to be last in that group run. I know how hard it is to set that alarm for the gym and be afraid to go. I know the discouragement of being told "you can't do that". One of my favorite things to say in class is: "IF I CAN DO IT, YOU CAN DO IT!" these are just a few reasons where that saying comes from. I recently designed a new class format incorporating spin, strength training and HIIT exercises and am looking forward to learning even more to expand as an instructor.
Amanda Seymour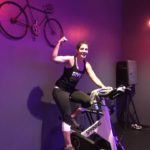 I grew up being athletic by participating in sports including gymnastics, hockey, and track and field. After high school, i gained the freshmen 15 plus 30-40 additional pounds along with some unhealthy habits. In 2008, I decided enough was enough and lost all the weight and went from a size 14 down to a 4-6. I have kept the weight off after having both kids (now a 6 and 2.5 yr old) by working out all 42 weeks, yes, I said 42 weeks!. I am working on obtaining my FiTour Cycle certification. I also held a level 1 CrossFit certificate and used to coach. Overall, I have about 4 years worth of coaching under my belt.
When I am not in the gym, I am the Director of Finance Administration for the School of Ocean Science and Engineering at The University of Southern Mississippi. During my free time, I enjoy spending time with my family as much as I can as well as helping other achieve their fitness goals.
Jenny Tate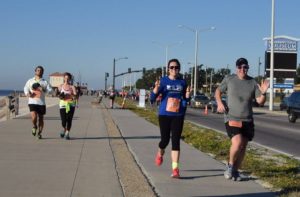 I am Jenny Tate (AKA Tate) and when I first started B.E. Fit 6 Bootcamp in the summer of 2015, I could not run a mile without stopping to walk. I had never really worked out, and I didn't have healthy eating habits. At my highest, I weighed 189 lbs. Through exercise, personal training, and a better diet, I've lost 50 lbs and am a much healthier person.
When I first tried a cycling class in 2015, my self-esteem was extremely low and a dark spin room felt less intimidating than working out under fluorescent lights. I liked the class format, the high-energy music, and the feeling of accomplishment when the class was complete. The spin bike was the catalyst that made me feel more confident doing other types of group fitness activities. I am a Fitour certified cycling instructor at the gym, and I am also certified to teach group fitness.
To a non-gym person, gyms are often awkward, confusing, intimidating, and impersonal (I used to be that person and felt that way.). Brantley Ellison Fitness does not fit that description. We strive to get to know you and help you achieve your fitness goals.
Noelle Vautour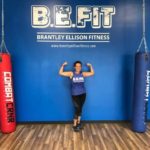 I'm Noelle and I am a spin and boot camp instructor at Brantley Ellison Fitness. I joined BE Fit back in March 2016, because I was tired of the yo-yo dieting and weight loss and decided to do something about it. Since joining Brantley's program I've lost over 76lbs and have never felt better. This community of people is like none other and I'm so proud to be a part of it. Along with being FITour Indoor Cycling Certified and (insert anything else I need for boot camp?), I am a shift Manager at the IP Casino in Player Services. I've lived on the coast about 22 years now and I'm so happy to belong to the best gym here on the Gulf Coast, B.E. Fit!
Krissi Weigand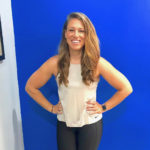 Before starting with B.E.FIT in August of 2017, I was unhappy, in terrible shape, and overweight at 191lbs. Then a friend dragged me along to my first Boot Camp. I was immediately hooked and fell in love with the program and the people. I had never exercised in such a positive, supportive, and judgement-free environment.
When Brantley opened his gym in March 2018, I decided to get really serious and completely commit to a total lifestyle change. I have now lost almost 40lbs and have gone down by 5 pants sizes. I was inspired by so many people along my path who continue to support me, push and challenge me, always have my back, and never fail to make me realize my full potential. To be able to give that back now as a Boot Camp instructor is beyond exciting!
I am a single mom to two incredible girls, I work full time as a physical scientist, and I was extremely unfit when I started. If you are thinking about starting Boot Camps or joining this gym, just know: I started where you are! If I did it, I know you can (and should) too!